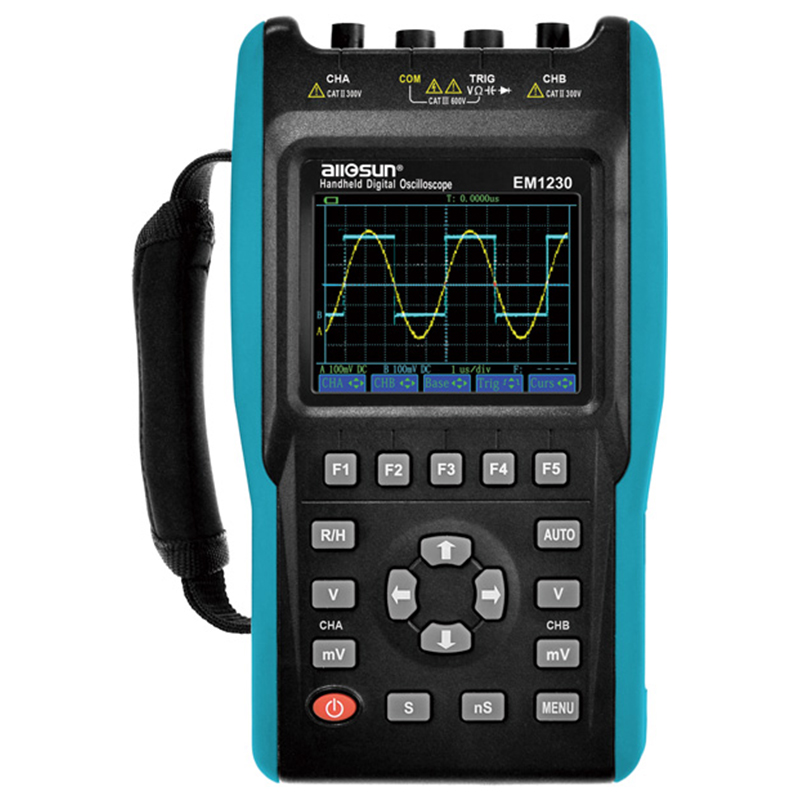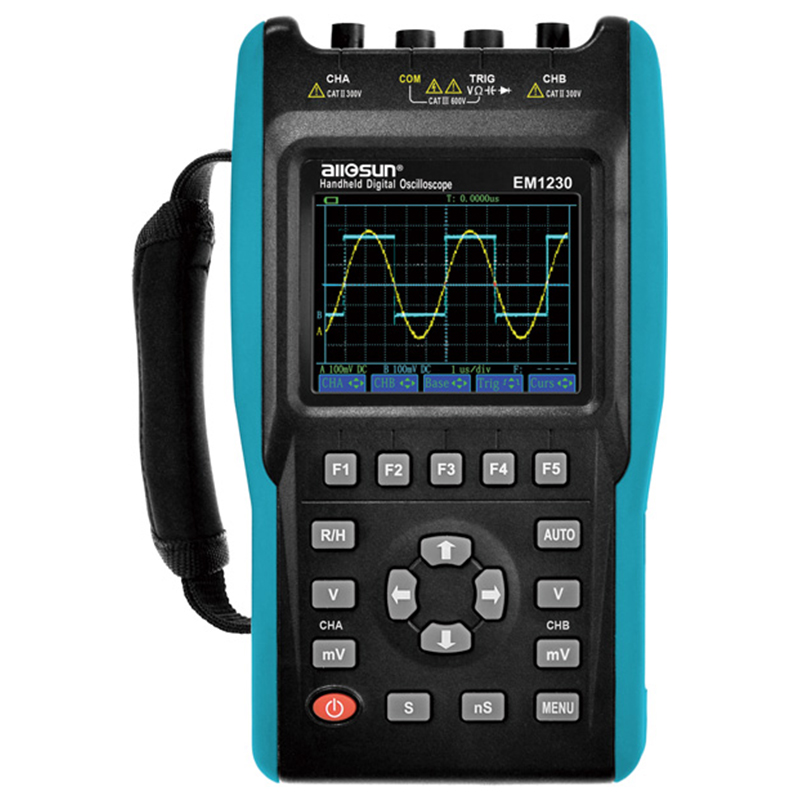 Handheld Digital Oscilloscope

CCCME Member

Recommended by CCCME
Product Details

Company Profile
Handheld Digital Oscilloscope
This instrument is a multifunctional handheld test tool which integrates a 25MHz digital storage oscilloscope
and a 6000-counts true RMS digital multimeter. It is ideal for field test and equipment maintenance and service.
Features
Dual-channel, 25MHz digital storage oscilloscope
6000-counts true RMS digital multimeter
Dual-channel digital storage oscilloscope with 100MSa/s real-time sampling rate and 25MHz real-time bandwidth
6000-counts true RMS digital multimeter
Automatic tracking and measurement: The scope can track external input signal and adjust the vertical amplitude, time base and trigger automatically without manual intervention.
Large dynamic scope measurement range from 10mV/div to 500V/div, no need to use other extended probe.
User can choose to display waveform parameter(s) such as RMS, peak-to-peak value, average value, frequency, period, etc.
Cursor measurement using one or two cursors
TFT LCD with resolution of 320

×

240 pixels
Powered by the built-in lithium battery or the power adapter.
Recorder function continuously tracks and records up to 24 hours of events.
This instrument can communicate with computer through communication software and USB port so that you can perform data analysis on computer.
参数/ Specifications
Horizontal
Bandwidth: DC-25MHz (-3dB)
Channel Number: 2
Raise Time: 17.5 ns
Sampling Rate: 100MSa/s
Horizontal Sensitivity: 10ns/div - 5s/div,With 1-2-5 Steps
Horizontal Precision: 0.01% + 1 Pixel
Vertical
Vertical Sensitivity: 10mV/div - 500V/div,With 1-2-5 Steps
Vertical Precision: ± (3% + 1 pixel)
Vertical Resolution: 8 Bit
Maximum Input Voltage: DC or AC 600Vrms
Coupling: AC,DC
Input impedance: 1MΩ≤20pF
Trigger
Trigger Source: CHA,CHB,External trigger
Trigger Mode: Normal, Auto, Single
Trigger Sensitivity: ≤1.0div
Trigger slope: Rising and falling edge
Trigger Coupling: AC,DC
Voltage DC: 600mV/ 6V/ 60V/ 600V/1000V
Voltage AC: 600mV/ 6V/ 60V/ 600V/750V(40Hz~400Hz)
Current DC: Reference the accuracy of current probe(optional)
Current AC: Reference the accuracy of current probe(optional)
Resistance: 600Ω/6KΩ/60KΩ/6006KΩ/6MΩ/60MΩ
Capacitance: 6nF\60nF\600nF\6uF\60uF\600uF\6mF
Diode: ≤2V
On/Off Test: Lower5 Ω,Beep
Battery:3.6V Lithium
Battery AC Adapter:DC 5V/8W
Dimension:222mm×114mm×50mm
Weight:About 0.7kg