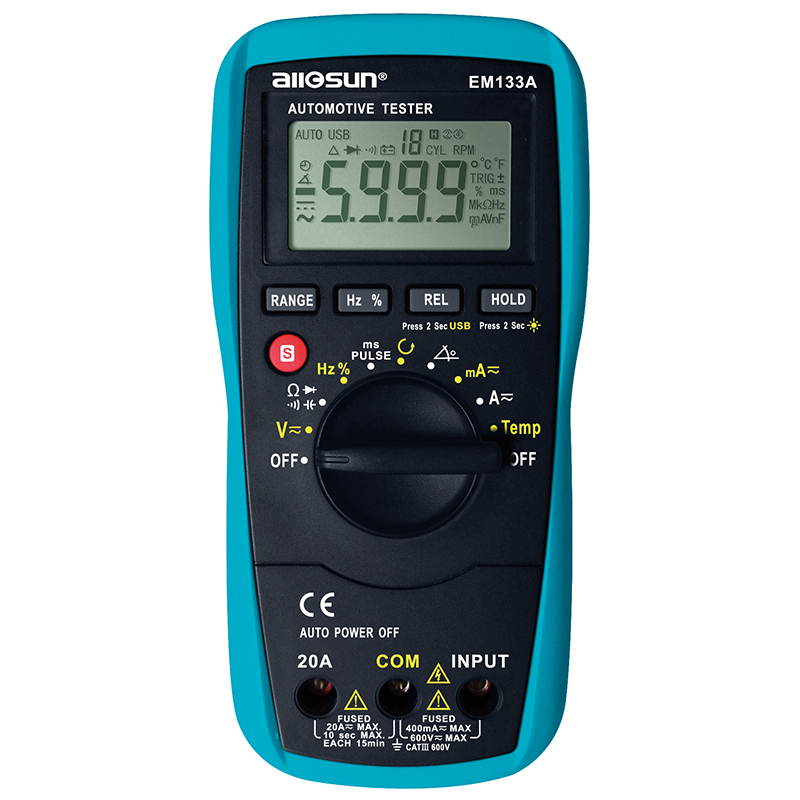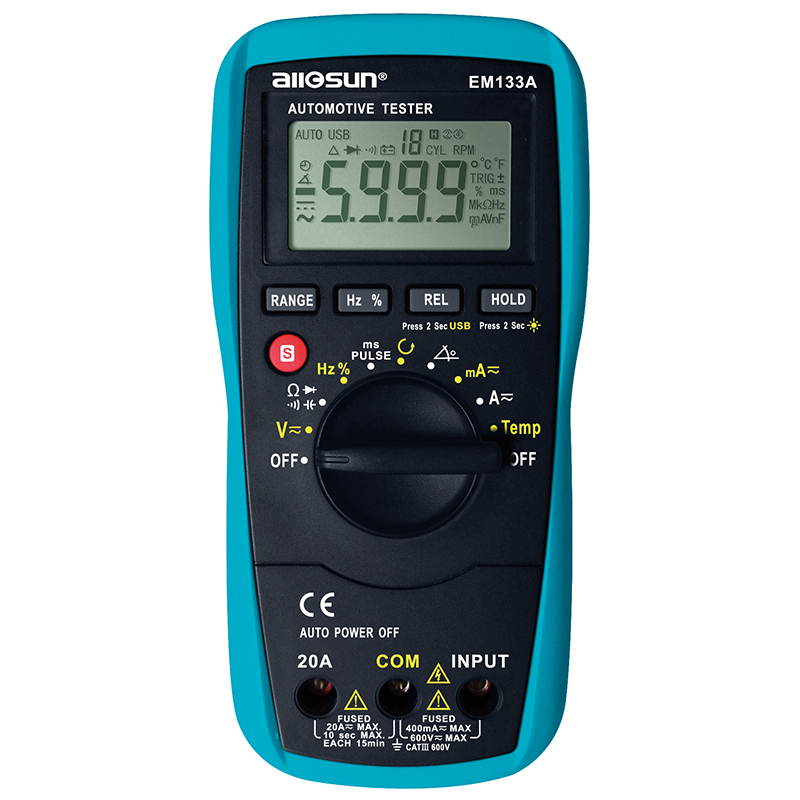 Digital Automotive Multimeter

CCCME Member

Recommended by CCCME
Product Details

Company Profile
Digital Automotive Multimeter
EM133A, Digital Automotive Multimeter
Introduction
This meter is a high-performance 3 5/6-digit digital autorange automotive multimeter. Besides AC and DC voltage, AC and DC current, resistance, continuity, diode, capacitance, temperature, frequency, duty cycle measurement functions, this meter can also measure RPM, dwell angle and pulse width. It features relative measurement, data hold, backlight, low battery indication, overrange indication, auto power off, meter-to-PC communication, and etc. It is an ideal measurement tool for automotive repair and service personnel.
参数/ Specifications
AC Voltage: 6~60~600~750v
DC Voltage: 600m~6~60~600~1000v
AC Current: 60m~600m~6~20A
DC Current: 60m~600m~6~20A
Resistance: 600~6k~60k~600k~6m~60mΩ
Diode: The approx. forward voltage drop of the diode will be displayed.
Continuity:
The built-in buzzer will sound if the resistance is less than about 20Ω.
The buzzer may or may not sound if the resistance is between 20Ω and 150Ω.
The buzzer will not sound if the resistance is more than 150Ω.
Capacitance: 40n~400n~4µ~40µ~400µ~4000µF
Frequency: 9.999~99.99~999.9~9.999k~99.99k~999.9k~9.999mHz
Temperature: -20~1000℃
Duty Cycle: 0.5-99.9%.
Pulse Width: 0.1~20ms
Dwell Angle:
4 cylinders: 0~90º
5 cylinders: 0~72º
6 cylinders: 0~60º
8 cylinders: 0~45º
Tach:
2-stroke engine: 60~20000RPM
4-stroke engine: 120~20000RPM