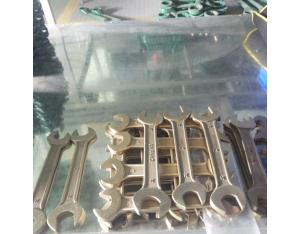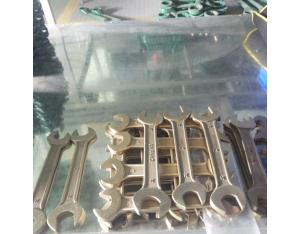 open end spanner .non sparking wrench anti spark
Product Details

Company Profile
Non sparking tools can avoid rise sparking when tools strike,rub,collide with target in explosive atmosphere or flammable vapors .they are widely used in petroleum industry ,chemical industry ,power generation,railroad,mining,etc.
open end spanner .non sparking wrench anti spark
For no spark tools, used in petroleum, chemical industry, natural gas etc and all kinds of potential explosive dangerous environment, machinery manufacturing and mechanical maintenance is also essential to the special tools.
We are specialized in manufacturing all kinds of non sparking tools,special tools,and antimagnetic tools.All of our products have passed ISO9001/UKSA certification.We would like to establish long-term cooperation with customers all over the world,please contact with me, I will send you an quotation as soon as possible.
In flammable gas concentration7.8%ethylene space for use are ensure safety.Impact, friction, sparks do not drop sparks.
Face hardness:HRC25°
Tensile strengthδb75-85kgf/mm2
We can supply the special kind and style depending on your request and if you are interested in our products or our factory please do not hesitate to contact with me. We really hope to make a long cooperation with you . Thanks for your kind attention.
we could establish long- term friendly cooperation with the customers all over the world and welcome to visit our factory and contact us
Aluminum-copper alloy explosion-proof tool HRC over 25°. Beryllium copper alloy explosion-proof tool HRC over 35 °.
Tensile strength of aluminum-copper alloy over 75-85kgf/mm.. Beryllium copper alloy tensile strength over 105-120kgf/mm.
Aluminum-copper alloy in ethylene concentration of 7.8% of space, beryllium copper alloy in the hydrogen concentration of 21% of space to ensure safety.
Non Sparking Tools Including:
· Wrenches: Single/double box wrench; Open wrench; Combination wrench; Adjustable wrench; Pipe wrench etc
· Striking wrench: Striking box/open wrench; Striking convex box/open wrench
· Sockets:1/2",3/4" 1" sockets; Heavy duty socket; Impact socket; Sockets sets(17pcs/28pcs/32pcs)
· Pliers: Cutting pliers; Slip joint pliers; Adjustable combination pliers; Pincers; Long nose pliers etc
· Hammers: Sledge hammer; Hammer testing; Ball pen hammer; Hammer claw; hammer scalling etc
· Screwdriver: Slotted / Phillips screwdriver ; Slotted screwdriver; Hex socket screwdriver etc
· Tool sets: 17pcs/21pcs/28pcs/36pcs/50pcs 100pcs for Gas station; Oil Depot; Nature gas; Minning; Overhauling ;Fire fighting etc
· Other tools: Files; Knife; Buckets; Brush; Round/Square Shovel; Bar; Shears cutting; Safety axe; Flat chisel; Chain Hoist; Clamp; Flange prop etc 300kinds nearly 10000 dimensions non sparking tools