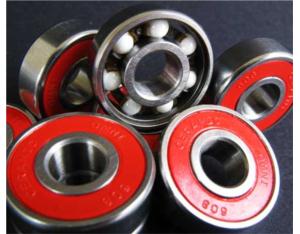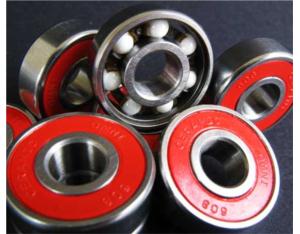 scooter bearing608ZZ scooter bearing manufacturer
Member Details
Shijiazhuang,Hebei,China
Product Details

Company Profile
1. High precision,long life,low noise,high speed 2. Quick delivery 3. OEM Service 4. Professional factory in Hebei 5. ISO Certificate
Scooter bearing and Skateboard bearing is normal radial deep groove ball bearing with double-shield or double-sealed. Scooter bearing/Skateboard bearing is standard 608-ZZ / 2RS (8*22*7 mm, ID*OD*W). The precision grade is ABEC-3, ABEC-5, ABEC-7.
Bearing Race: chrome steel SAE 52100 or stainless steel SUS 440C.
Bearing Ball: chrome steel SAE 52100, stainless steel SUS 440C, or ceramic ball Si3N4 / ZrO2.
Bearing Cage: Nylon PA66+30%GF.
Bearing Type: rubber seals or metal shields.
Bearing Lubrication: Kyodo Yoshi, Shell, Mobil.
608ZZ bearings are one of the most widely-used bearing sizes and are used in many scooters, skateboards, roller skates, and inline skates. This is a popular size of bearing used by Razor Scooters USA on their electric and kick scooter lineup.
608 size bearings are also known in the skateboarding world as ABEC-7 bearings.
Note that 2 pcs bearings are required for each scooter wheel, and 16 pcs bearings for each skateboard.