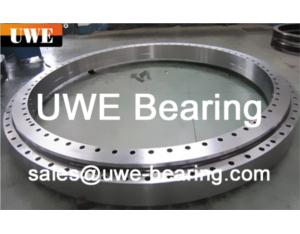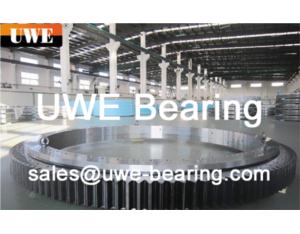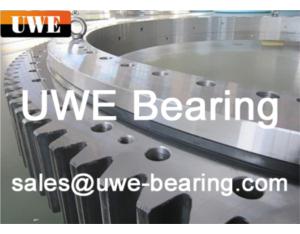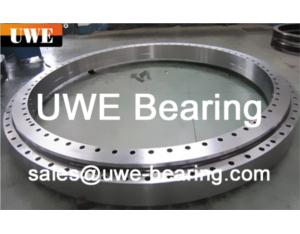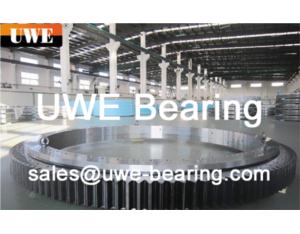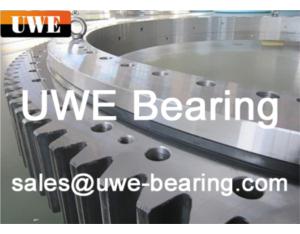 crane slewing bearing/crane slewing ring
Member Details
Dalian,Liaoning,China
Product Details

Company Profile
Ring Material: 42CrMo, 50Mn, steel 45# Seal: NBR Normalizing hardness: 187HB-241HB Quench & temper hardness: 229HB-269HB Raceway hardness after quenching: 55HRC-62HRC Sevice:OEM/customer lable
Quick Details
Inner diameter: 80 - 5000 mm
Outer diameter: 100 - 5000 mm
Width: 56-300mm
Tooth processing module:M7-M25
Gear machining accuracy:<0.1
Max. Tapping diameter:M60
Gear optition: extenal gears,internal gears,no gears
Rolling element: ball or rollers
Rolling element material: Chrome steel GCr15 or GCr15SiMn
Ring Material: 42CrMo, 50Mn, steel 45#
Seal: NBR
Normalizing hardness: 187HB-241HB
Quench & temper hardness: 229HB-269HB
Raceway hardness after quenching: 55HRC-62HRC
Sevice:OEM/customer lable
UWE ship crane bearings includes double row ball slewing ring, four-point contact ball slewing ring and three row roller slewing bearing.Large size three row roller slewing bearing is often selected for heavy duty deck crane, four-point contact ball or double row ball slewing bearing are often selected for light duty deck cranes.Large shipboard crane with a three row roller slewing ring. The high load capacity and compact proportions of this type of slewing ring are ideally matched to the mast and base block proportions of the crane.Deep sea fishing vessels use ball slewing rings for shipboard cranes and net handling equipment.
UWE slewing rings are widely used in kinds of cranes, such as tower cranes, ship deck cranes, mobile cranes, railway cranes and so on.
Quality control is carried out by UWE from the forging to the packaging of the finished product.Certificates are available for each production step, automated records are available for all heat-treatments, hardness tests, surface tests etc.